I don't normally think of myself as angry, yet casting my mind back over my practice, there is a thread running through. It is red thread, a red thread of anger. Anger, that I as a mother I had to give lip service to only the joy rather than the contradictions, ambivalence and lowly economic status of motherhood.
Studies in mothering have announced such seemingly obvious statements as 'mother-love….is as important for mental health as are vitamins and proteins for physical health' (Rutter, 1972). It has been convenient to believe that the needs of mother and child are complimentary, that the mother gets what she needs mutually from the child. This is the myth of a satisfying symbiosis of the mother-child dyad.
I have explored these contradictions and the 'lived reality' of motherhood in art works in order to escape from stereotypical representation, confinement, stigmatisation, and categorisation.
Society categorises and represents mothers as good or bad. Caught between binaries, they are denied individuality and Subjecthood. Mothers are bearers loaded with the responsibilities of the institution of motherhood and denied individualised representation.
My performance practice explores possible strategies for representation through visual metaphor, time-based video practices, street action, parody,  language and ritual.
The body is performed and used in an iconic way. It is maternal, fecund, tender yet ultimately angry. It is possible through evocative encounters to create rupture and the cultural transformation of the burden of parenting.
New work for the archive: Make Light Work, 2002, parodied cultural narratives about women's work as unimportant and shallow ('light') and created  a textual metaphor to visually and concretely contradict the notion of 'lightness' and explore the darkness of motherhood.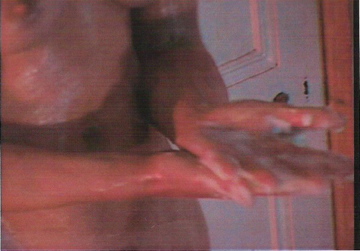 Wearing the Trousers makes the Baby Come was a film performance made in 2002. The performance coated my naked body with lard whilst recounting stories about maternal bodily experiences – babies, scars, stresses and lesions. Lard is an interesting body-fat material used as a viscous metaphor. It is slippery and disgusting. Telling the story of the lived experience of the maternal body through multiple readings and feminist-poetic text.
New work – over time:
I often work with time-based works in different media, creating a dialogue and relationship over time. A potential future work is to perform the same performance score for 'Wearing the Trousers Makes the Baby Come' (an ironic reference to an archaic saying) with a projection of the earlier work onto my body. It becomes a metaphor for many things: palimpsest, time, aging, change, trauma and healing.
I loved being a mother of 3 children under 5 in the 80s – and was completely and utterly traumatized by it. My work deals with longevic maternal mental health. Now a grandma with 2 granddaughters I still make work that deal with ambivalences and experiences of motherhood in non-stereotypical ways – and for women of all ages.