Here are some of Delpha's performances that explore mother's lived experience through repetitive performed acts and time-based installation. They engage with the void of representation of motherhood and use layers of time and repetition to evoke the burden and isolation of motherhood.
Double Burden performance with desperateartwives Leyden Gallery, 2017
Continuing a series of works made from the late 90s that use material metaphors to perform the lived reality of mothering and re-represent the unfair cultural and physical burdens of parenting on women, this performance combines and renews and layers aspects of previous live works.
The weight of expectation and the load of care and guilt are symbolised by a heavy red hessian sack and a heavy red suitcase. These are carried through out the evening whilst stopping to share mummy stories with audiences.
At the end of the evening the suitcase is opened to reveal a huge lump of lard which is fashioned into a baby and an altered lullaby sung to the lard baby.
Double-Void, durational performance and installation, Newlyn Art Gallery, December 2001
In 2001 I created a performance and installation that combined live action with documentation of previous performative actions:
Burden, (The Works studios, B'ham, 1998) drag a sack of lard which corresponds to the weight of my child (40lbs) round a small chalk circle 9 times
Double-Void (Newlyn Art Gallery, 2001) drag a sack of lard which corresponds to the weight of my child (60lbs) round a large circle for 6 hours in public indoor space.
The central concept or action was durational walking a circle and dragging a bag of lard, whose weight corresponded with the weight of my child at that time. Changing as the child grows, this action is a metaphor for the physical, psychological and cultural 'burden' of childbearing and rearing which women are expected to bear.
The maternal round was re-created by a durational performance of dragging a hessian sack filled with lard corresponding to the weight of my youngest son around a circle in the gallery all day. An infuriatingly repetitive sound loop of my son's first word 'bag'! playing in the background. Three video screens showed previous performances of the same action.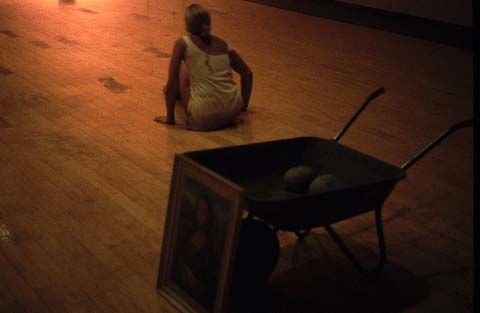 M/Utter, Crossing Time Festival, Dartington Hall, 2002
My performance practice explores possible strategies for representation through visual metaphor, time-based video practices, street action, parody, language and ritual.
Here the maternal body is performed in an iconic way. It is maternal, fecund, tender yet ultimately angry. It is possible through evocative encounters to create rupture and the cultural transformation of the burden of parenting.
The title m/utter is German for mother and a set of Sisyphean tasks were accompanied by an incessant chatter or mutter. The tasks were performed with with my legs tied together as a metaphor for motherhood and the cultural and physical constrictions and restrictions that mothers experience.
M/utter notes
'I had given myself a ridiculous set of tasks involving filling a wheelbarrow with a number of items: symbolic and mostly heavy, with my legs tied with plastic bags of seawater. The intention was that the actions should be accompanied appropriately to the title of the piece with a low, incessant mutter. This was harder than I thought especially with members of the audience talking to me. I responded. I don't know what I said, probably something about 'expectation,' as the first part of the performance was reading the newspaper article, which made me cross every time I read it.
Mostly I remember the raw burning sensation on my thighs as the bags of seawater leaked and then evaporated leaving a harsh, salty residue on the floor. Where I had moved fast, sliding along on the salt water, movement now became really painful with the friction from the dried salt water. Moving slowly, the muttering becoming moans and maybe the odd curse.
Finally after a  number of hours, I had completed the task of filling the wheelbarrow and felt a surge of new energy as I was filled with a red raw thread of anger. This increased as I tried to manoeuvre the wheelbarrow out the doors of the building. Furiously I remembered all those years of trying to manoeuvre pushchairs and children.  Pushing, forcing, breaking my way out,  I crashed into it. Fuelled by sudden fury, with supernatural strength I lifted up the wheelbarrow and crashed the contents on the steps of the building. The mirrors shattered, the buckets clattered, and the small boulders bounced heavily all the way down the steps. I do not remember clearing it up.'
I don't normally think of myself as angry, yet casting my mind back over my practice, there is a thread running through. It is red thread, a red thread of anger. Anger, that I as a mother I had to give lip service to only the joy rather than the contradictions, ambivalence and lowly economic status of motherhood.
Studies in mothering have announced such seemingly obvious statements as 'mother-love….is as important for mental health as are vitamins and proteins for physical health' (Rutter, 1972). It has been convenient to believe that the needs of mother and child are complimentary, that the mother gets what she needs mutually from the child. This is the myth of a satisfying symbiosis of the mother-child dyad.
I have explored these contradictions and the 'lived reality' of motherhood in art works in order to escape from stereotypical representation, confinement, stigmatisation, and categorisation.
Society categorises and represents mothers as good or bad. Caught between binaries, they are denied individuality and Subjecthood. Mothers are bearers loaded with the responsibilities of the institution of motherhood and denied individualised representation.