.
The A6 documentation book of the Theatre of the Self introduces many of the themes and ideas that you will find in the 4 additional themed diaries. 30+ years have been edited down to one short page per year, which includes: the date that I read the diary, 3 photos (shared on Instagram), a single short diary entry to give a sense of some of my personal stories, and a few additional interpolated notes that mingle personal and theoretical material.
Even on this scale, it aims to show how reading the Self can create different kinds of knowledge as we continually re-inscribe, and overlay meaning from where we are now. It's overarching aim is to explore not only diary writing for mental health but how re-collecting and re-writing our stories can change everything.
Look inside:
Coming soon! You will be able to read the Theatre of the Self documentation book in full here from the end of January.
Read more writing about the project. Purchase a copy. To refer to the Bibliography.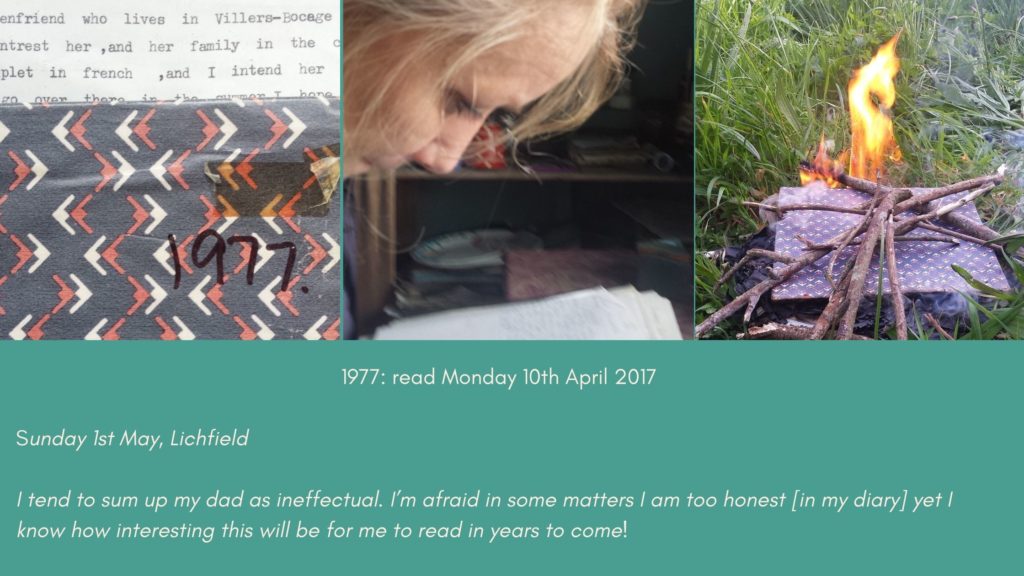 From the age of 14 in 1977, I wrote almost daily in a diary or journal. At first writing was a religious chore as I was told at church that I should record my belief for posterity. Later when I left the church I despised these old diaries because I believed they were full of religious fervour. This is reason number one to get rid of my diaries yet I am relieved to discover that I was also 'normal' girl with opinions of my own.
Many of the memories I read, I had forgotten or changed as I tell and re-tell the story of myself, as we all do. 'The act of telling itself changes the tale,' (Van der Kolk, B., p.191) and discovering that we all have the potential to reconstruct our 'selves' through re-writing personal stories has become a part of coming to terms with a strange religious upbringing.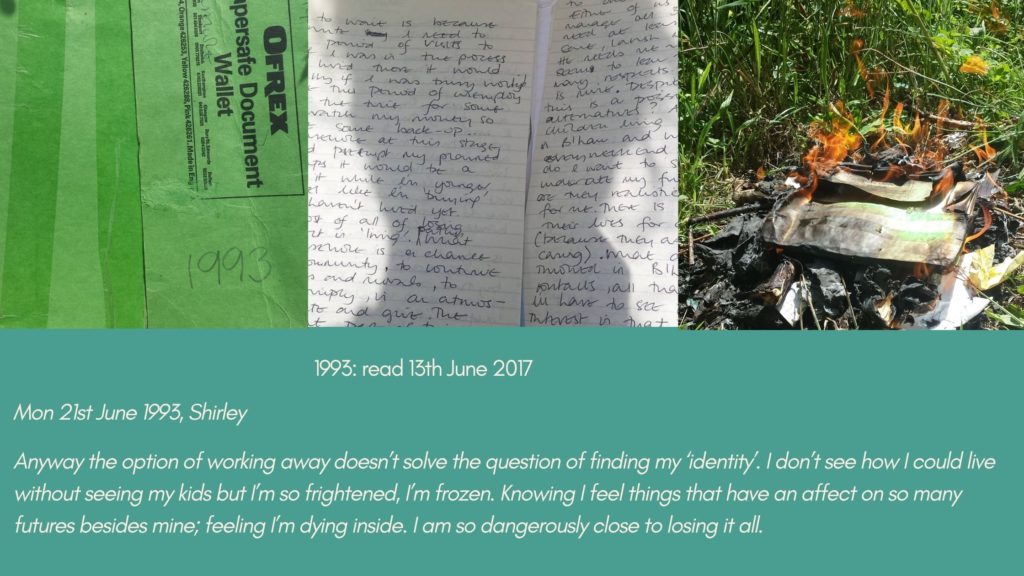 This writing was a significant admission made before falling into an abyss of living away from my children and husband. I'm not sure what story I have told myself about this decision all these years and it has haunted me.
Telling a story about events does not guarantee that the traumatic memories will be laid to rest but it is a step in the right direction. Without stories, some memories become frozen. 'The past is paved with words, carefully assembled, piece by piece, until the whole story can be revealed'. (Van der Kolk, B.,, p.218).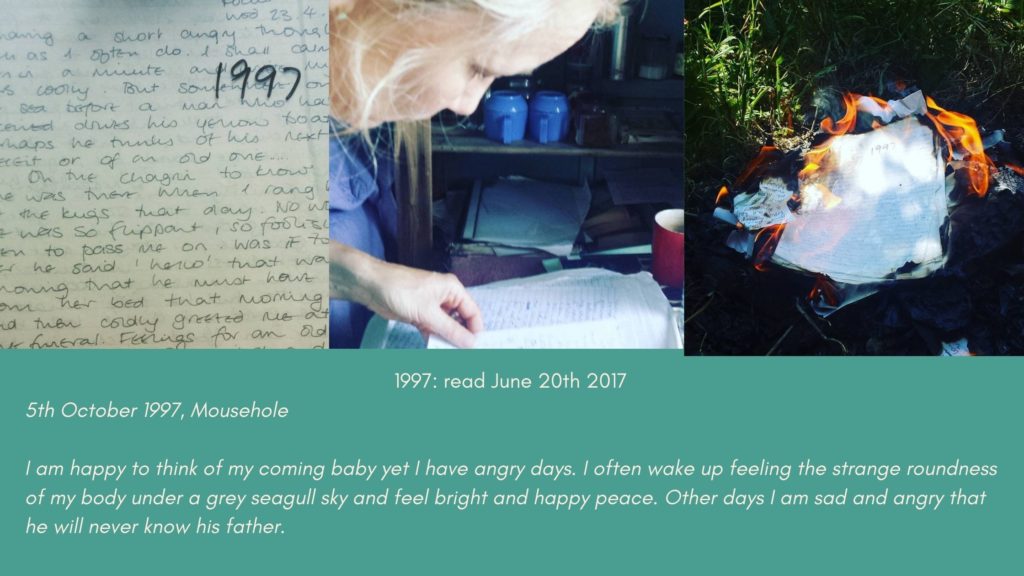 I decided to keep this baby even though it was clear I was going to be a single mother. I kidded myself for a while and we made plans to move in together but then I found out he had got back together with his old girlfriend. I was ill during the pregnancy and couldn't cope, so took myself off to live quietly to Mousehole.
This project was inspired by 'gestures of confrontation and appropriation, destruction and construction.' (Kristeva in Harrison & Wood, 1992 , p.395) and confronting many things I'd forgotten was painful yet about repainting my memory in colours I choose, shades of trauma and all.
Julia Kristeva also writes of a 'subject –in-process;' making it clear how we are constantly in flux and never finalized. Writing deep-seated experiences and interpretations we can find 'authenticity' of self – even if it's not a permanent construction.
Writing captures a unique image of self and can potentially be a 'constitutive process'. (Hassan, A., 1992, p.3) I realise I regularly re-visited old diaries and old selves and determined to move on. Writing enables us to have useful conversations with ourselves about the past, as well as the present, and even our future.