Co-director of Art Surgery from 1998- 2008
Researching and developing programmes of Live art, and site-specific performance with Andy Whall we worked closely to create exciting Arts Council funded site-specific programmes of art over a 10 year period. Historically performance art has always happened alongside painting in Cornwall but traces disappear. Here is a little about Art Surgery's contribution in the late 90s and early noughties.
Here are some of the programmes and events that we instigated during that 10 year period:
2008, That's Entertainment, Newlyn Exchange Gallery, performing together for the first and last time: 3 days to create a show using clowning and playing with performance practices. See more information below:
2007, LAF (Live Art Falmouth) collaboration with Falmouth college for their first performance platform using the Live Platform model from 2003.
2006, Tract, a site-specific performance project for Art Surgery, with Newlyn Art Gallery. Arts Council Funded including performances from Alistair McClennan, Richard Lazells, Roddy Hunter, and Kira O'Reilly.
2003, Live Platform, Art Surgery in association with Newlyn Gallery a live performance art platform and symposium with Julie Bacon and Roland Miller.
2002, Videoteque II, selection and dual re-presentation of a video programme including work by Andy Whall and Delpha Hudson
2002, Videoteque, selection and presentation of a programme of international video in the window of Ten Gallery, St Ives with a whole host of amazing video artists from around the world
1999, Real Art (and a Sense of Place), an Arts Council funded site-specific performance programme including  performances by Bobby  Baker, and Andre Stitt
Other links: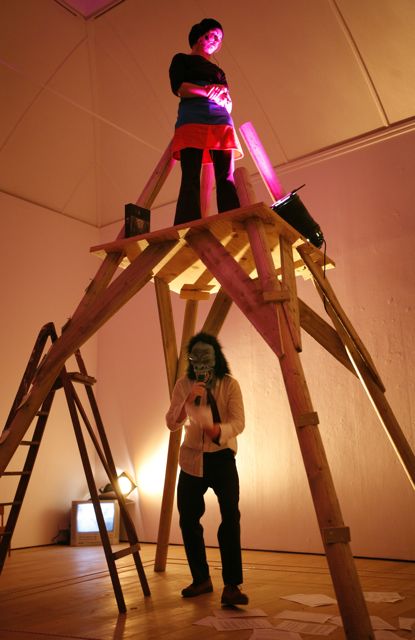 That's Entertainment, performance and film, by Art Surgery, Newlyn Art Gallery, 2008
There was some intentional irony in the working title, as it may or may not have been in the least entertaining.
Transitions is a platform for trying things out in the gallery, works in process. Andy Whall & Delpha Hudson had worked together curating other artists' work, or  worked individually as visual and performance artists but curating themselves was entirely new, as was making theatrical collaborative work.
The endgame was to create a performance or spectacle in four days.  We built an installation in collaboration with Neil Robson, studied clowning, comedy, breaking the fourth wall, with our mentor Mr B clown. We improvised and devised, using a range of sources, fragments, narratives, texts; the story of Walter Benjamin and his black briefcase, text as landscape, archives (from our own work and the gallery's), examining tensions between live art and performance art, as well as between our 'curator' and 'artist' personas. We wanted to explore failure, spectacle and live art theory.
Visitors to the gallery were welcome to watch, engage, ask questions, make suggestions, intervene, extrapolate, and stop disputes if necessary.
The process was documented by film maker Alban Roinard, and as complete failure was a necessity, and the whole process a fiasco, the show did go on but it may or may not have been entertaining. You can view Alban's film here: http://vimeo.com/2430617