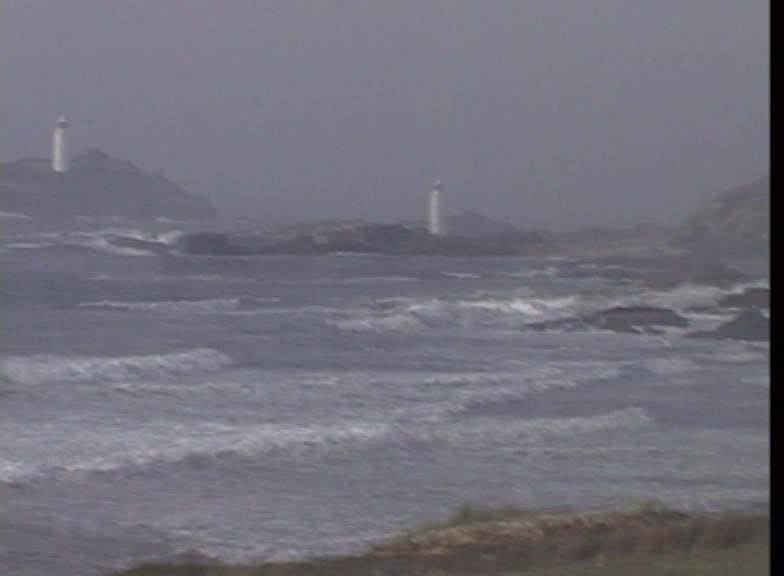 To The Lighthouse (and back), silent film 10 minutes, Newlyn Gallery (2002), Wild Dog (2004)
With an atmosphere of apparent timelessness, the silence and slow motion of the camera and authorial gaze moves across the tiny figures on the beach at Godrevy, passing a young child, and settling on the image of Virginia Woolf's lighthouse.
The Lighthouse is a book in which Woolf's writes of the mother, return and memory. At this site, the movement of the camera takes us from the lighthouse and then returns there. Using contrasting sites and frames to create a timeless scene from imagination, the film visualizes a return to the past, and the  constant return to the mother. It questions her absence as a Subject and her entry into the Symbolic.
The small child playing on a mobile phone is a strange anomaly in this beautiful scene. The dissonance for mothers of the day-to-day experience of care is implied by this child's interruption of the scene. The mother remains absent and unrepresented.
Notes on To the lighthouse (and back)
In 2001 I clawed back a small space at the end of the garden of my tiny rented accommodation in St Ives to make a 'room of my own'. The shed that I built was not a great studio. Small cold and lacking, its one great advantage was a fantastic view over to Godrevy and the lighthouse. It was a place to escape childcare, housework, and domesticity. In re-reading the work of Virginia Woolf, I wanted to make work that in some way dealt with my personal struggle to have time, space and a creative life in the face of every obstacle.
To the lighthouse (and back), was a video work that came from long hours of reflecting on feminist discourse, performance and film. I was not trying to illustrate Woolfe's book, I merely allude to sited domestic associations with place, and perhaps the maternal lived experience of time and repetition.
A related work that also referenced women's work and a 'room of one's own was an installation Is it Working? made for We are relentless the AAS exhibition at the Custard Factory 2003.
Is it working? questioned the considered value of women's work and their confidence in making their voices heard.  Documenting my shed (a room of my own) over the course of a couple of months, the project score was:
one photo each day, with diary entries and an accompanying video.
The ironic title was a way of dealing with questions about value and women making art. Every day the other male artists I knew in St Ives went to their studios at Porthmeor, and had the luxury of working all day.  In contrast, I squeezed a few hours when I could around childcare, domestic duties and part-time work, Some days I only had time to take a photo. Could I claim that my work was important or even that it was art?
'Referencing Tching Tshieh style documentation, the question of the title enquires after this special space of the artist and the significance (or not) attached to it in society. It is also a personal space, from which you can see Virginia Woolf's lighthouse. For women what does it mean to 'have a room of one's own'? Our voices join in representations and texts  extrapolate meaning over time and have the potential to create visibility and equality for women' (Delpha Hudson, 2002)
View other time-based art projects.