Delpha Hudson & Nigel Bispham started working together on a range of site-specific art performance & sound projects from 2015.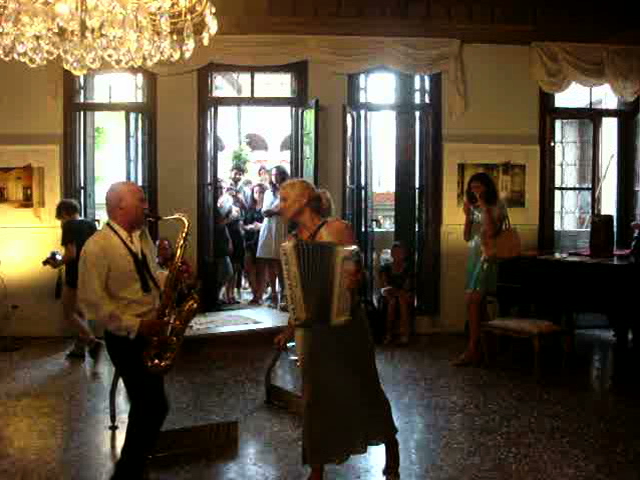 Place Settings, performance with saxophone, accordion, hammer, saw, words and wood, Ca'Zanardi, Venice, 2016
Collaborative sound performance work with Nigel Bispham featured compositions by Bispham for sax and accordion and was a devised site-specific performance in a domestic space. Saws, hammers, plates, cutlery were played in an abstracted narrative conveying the beauty and desperation of family life. Four short musical movements develop narratives of fragmentation of domestic identities. The sound and movement passionately evokes banality and frustrating tedium, as well as familial warmth of the home.
Place Settings was created especially for Ca'Zanardi, making sound specifically for that space. Gravitating towards performing bodily-emotional meta-narratives, Nigel and I collaborate with ideas, site, objects, and language. We explore ways in which sound and movement speaks to us all, and how we can work together to poetically promote systems of care. Between us we have eight children and the work hopes to share experiences of parental burden in order to represent ways in which we are all responsible for each other.
Place Settings was developed from other sound performance collaborations that use site, objects, and language to explore ways in which sound and movement speaks to us all. Music and sound transform and communicate non-verbal existence. In this performance, poetry is not read or spoken, but performed and created in the intersection between sound and sculpture.
Watch film documentation by Hannah Bere.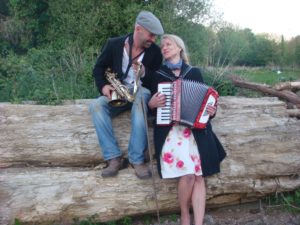 Delpha Hudson & Nigel Bispham also perform an eclectic mix of live music together as duo mélange tous – which means a mix of everything including Klezmer, Swing, Cajun and our own original songs.
With Nigel on guitar and sax, Delpha Hudson voice and accordion. View live performances on youtube, or have a listen on our soundcloud page. There is more information on our facebook page
Nigel Bispham is a musician and composer whose piano composition Pythagorian Theory features one of Delpha's latest films Like a ship righting itself
View more sound performance collaborations