Welcome to my film archive. I started making films from and in juxtaposition to live performances in 1998. It is a way of following my interest in feminist discourse, the body, and time. Have a look at a variety of work – some of which can be seen online: Life Sentences or you can read about others like: A Walk with Jane Austen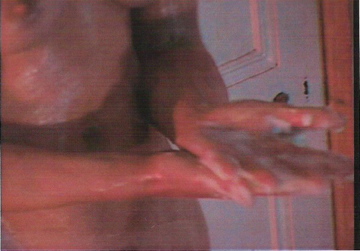 Wearing the Trousers makes the Baby Come was a film performance made in 2002. The performance coated my naked body with lard whilst recounting stories about maternal bodily experiences – babies, scars, stresses and lesions. Lard is an interesting body-fat material used as a viscous metaphor. It is slippery and disgusting. Telling the story of the lived experience of the maternal body through multiple readings and feminist-poetic text.
Feminist Film
I often work with time-based works in different media, creating a dialogue and relationship over time. A potential future work is to perform the same performance score for 'Wearing the Trousers Makes the Baby Come' (an ironic reference to an archaic saying) with a projection of the earlier film work onto my body. This creates layers of meaning: body memory, palimpsest, aging, change, trauma and healing.
I loved being a mother of 3 children under 5 in the 80s – and was completely and utterly traumatized by it. My work deals with longevic maternal mental health. Now a grandma with 2 granddaughters I still make work that deals with ambivalences and experiences of motherhood in non-stereotypical ways – and for women of all ages.
Make Light Work (2002) parodied cultural narratives about women's work as unimportant and shallow ('light') and created a textual metaphor to visually and concretely contradict the notion of 'lightness,' and explore the darkness of motherhood.