The truth is we become the stories we tell about ourselves
Taking its starting point from a 30 day performance of reading, editing and burning 30+ diaries in 2017, the Theatre of the Self is an art project and book that documents a personal journey through life stories and trauma that encourages us to re-write ourselves.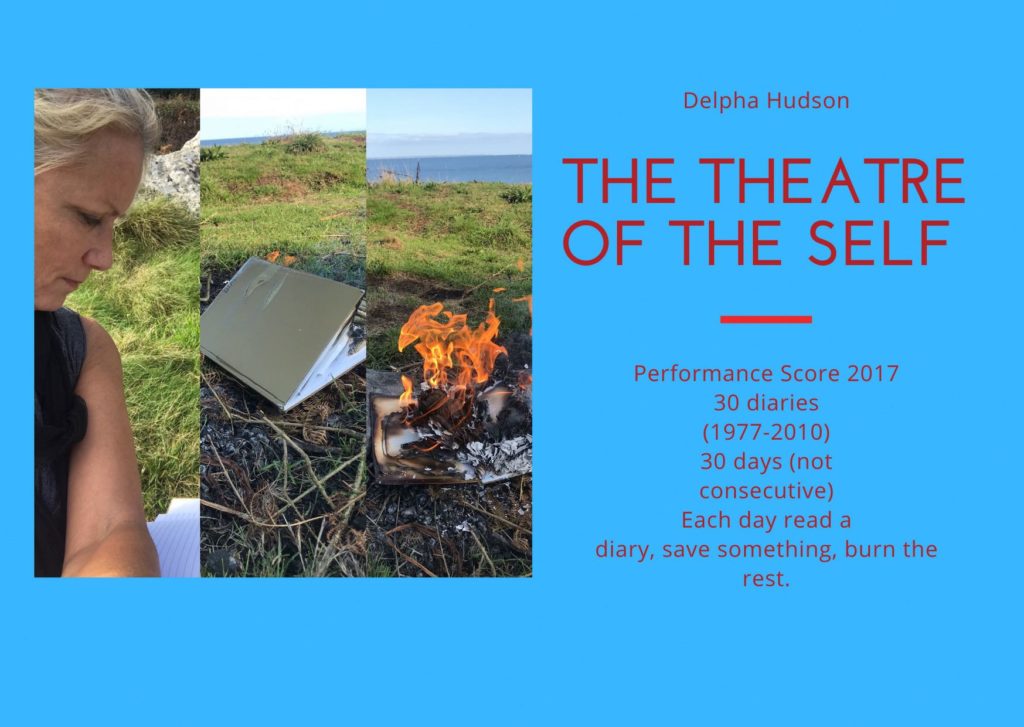 In 2017 Delpha's performance score became a starting point for a research project about women, autobiography, our stories – and surviving motherhood. The project is not about the destruction of archives but keeping what we want and living ourselves into our best stories.
The performative process of dealing with versions of ourselves was a practical project that dealt with 30 years of diaries; a personal and cathartic project dealing with trauma; a journey into rethinking how we might use a kind of historical revisionism to see our pasts differently with ensuing benefits for good mental health.
Some Research Themes
Diaries: what we leave behind, memory, truth, interpolated time, presence, transformation of self through writing and stories
Women's autobiography: visibility, voice, representation & writing the self
Time-based performance, the body, fluid and multiple identities, trauma & the archive
Historical constructs, narrative identity, narrative smoothing, & redemptive stories
Narrative processing for mental health, psychological reparation of trauma, catharsis & reconstructing and rewriting the self
Women's narrative recoding of domestic stories & parenting pressure, reinstatement of value for care & domestic acts, rewriting the Self for their children and the children of future generations
Read more about the concept & process with essays by Phoenix & others
Look inside the 2021 limited edition boxset of documentation and mental health diaries & buy a boxset
Access mental health services
Project news:
The Virtual Book Launch took place online on Thursday 4th March 2021 with artist & author Delpha Hudson, host Helen Battelley and invited speakers Dr Polly Hudson, Dr Davina Kirkpatrick & Rene Crouch. View the event online.
The books were also part of an online exhibition & collection of artist's books about mental health: 'It's A New Day' is hosted by Bower Ashton Library in collaboration with Arnolfini, Bristol, Tues 2nd March – Sun 18th April 2021.
They were also included in the online BABE book fair at the Arnolfini 17-18 April 2021, with my film about the making of the book available online from Friday 16th April. More on my artist's news
Other Instagram live chats took place during April & May 2021 with Helen Sargeant of Maternal Art & Carrieanne Vivianette of CVIV arts – videos can be accessed on Instagram or on Conversations on Resilience: with Delpha Hudson
Delpha Hudson is an interdisciplinary artist who has been making work about women and motherhood since 1998. Her paintings, installation, performance, film and sculpture have all used personal stories and sometimes diary entries to explore gendered Subjectivity and the Self.
The 2017 project was documented on Instagram and took place in a quiet Cornish meadow where Delpha spent 30 days, reading, editing and burning 30+ years of diaries (1977-2010). There were 3 posts for each day and all of the documentation is on Instagram theatre of the self
Theatre of the Self box set
The Theatre of the Self box set
A limited-edition of 100 signed copies of the A6 box set of 5 colour coded books in a blue slipcase
are available @£19.95 per set (additional £5 postage)