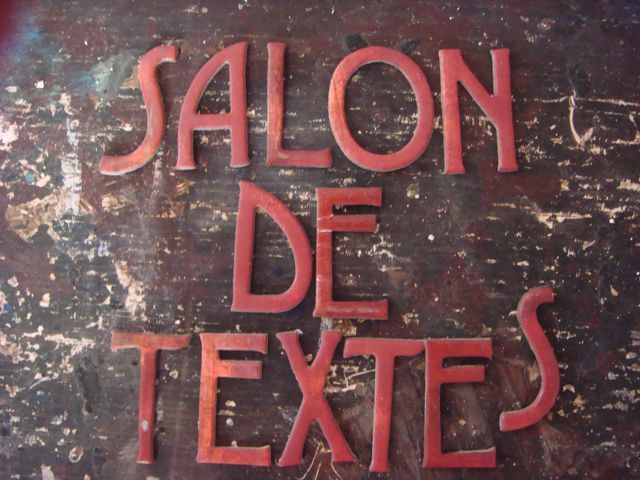 A salon event based in Chapel Street, Penzance, curated with Rebecca Weeks and Ian Whitford of CAZ (supported by ALIAS' series Artists' Hubs across Cornwall). The Salon is set up as a researched-based, discursive event that explores a whole range of text-based art practices. Instigating informal discussions about art, life, work, and text. Each event is presented as an 'edition'.
Edition 1 : 'a word is a bridge thrown between myself and another', November 2013 with an opening night party, and an exhibition of works which variously included: performance, video, sound pieces, publications, paper based, wall based, and small sculpture works. Edition 1 artists: Julia Alldridge, Sam Bassett, Sovay Berriman, Tilla Brading, Adam Brown, Sally Crabtree, Paul Farmer, Maura Hazelden, Delpha Hudson, Poppy Jackson, Andrew Lanyon, Jim Leftwich, Justin Mckeown, Annabel Other, Steven Paige, Maddy Pethick, Chris Priest, LowProfile, Alan Reed, Drifting Space, D M Thomas, Mr Thursday, Ken Turner, Rebecca Weeks, Weeks & Whitford
Click for detailed information about all the artists in Edition 1 (Nov 2013) final credits for s de t :
Edition 2: 'the rhythm of fragments',11th Apri, 2014. Intimate spoken word showcase with an exhibition of art in response to the spoken texts. Please go to Edition 2 page for full information.
Link to facebook page: https://www.facebook.com/pages/Salon-de-Textes/1379570292309515#